In every group of people, there's always someone who marches to an entirely different drummer. In our SCA household, that person is Morwin. In a group comprised of greeks who occasionally dabble in 14th century or renaissance, we have one lone mongol, usually easily spotted by the only yurt pitched in the center of camp.
Because he's the only one, Morwin also has to be very patient when it comes to his clothing. During the spring and summer, greek tunics are being cut four at a time and sewn at factory speeds. 14 century gowns are churned out on the weekends because the girls come up to hang out and get fitted. But as the only Mongol, he has to wait for a break in the production line for me to switch gears and move on to something completely different.
Which, this winter, worked in his favor. I had sewer's block. My muse was gone. Greek chitons bored me to tears. I rebeled at the thought of sewing endless amounts of seed pearls to something.
Enter something completely different.
The mongol coat was made using a now out-of-print Simplicity pattern for a wrap coat. We modified the pattern a little to make longer sleeves on a shorter coat.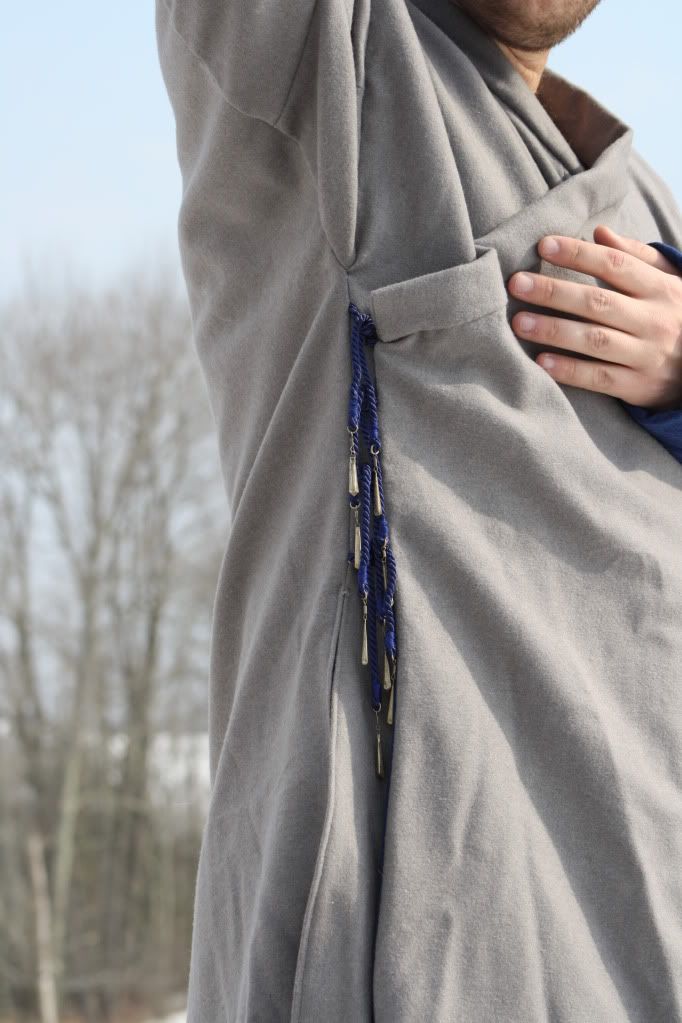 The coat wraps and ties both on the inside and the outside. The ties were made with dark blue cord and wrapped with thread. They were finished with antiqued silver teardrop pieces I took from an old necklace.
The coat was made from light gray wool and lined in a blue linen. The sleeves were made long enough to be cuffed up to show off the lining.